Pool Cover Pros, Inc. Products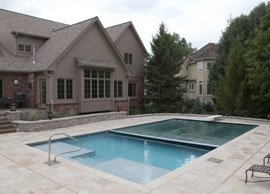 Looking for that timeless design in your new pool? The under track application incorporates the AutoGuard™ safety cover into a concealed track which is seamlessly fastened to the pool wall or secured in a track retainer system. The advantages of the under track system are that it removes the cover tracks from your pool deck, gives you more options for the edges of the pool, and allows for greater flexibility in creating an attractive lid. The superior engineering of the AutoGuard™ under track system will meet the requirements of nearly all types and shapes of pools.
See Photos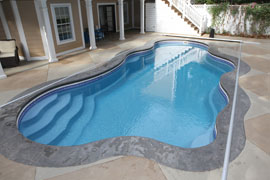 The AutoGuard™ automatic pool cover top track system can be designed as part of nearly any pool shape. The cover's low profile track is securely mounted to the top of the pool deck. The leading edge of the cover is strong and bow resistant with wheel mechanisms gliding the cover open and closed. The cover opens into a recessed housing, visually removing the cover roll-up from the pool area. The system is covered with a sturdy lid that provides easy access to all system components. An optional application is for the track to be incorporated flush into the concrete deck.
See Photos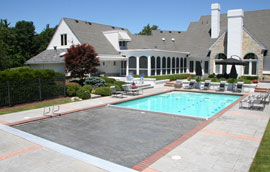 THREE•SIXTY•FIVE™ is the system of choice for vinyl liner pool builders whose customers demand the very best for their backyard investment. Its outstanding coated vinyl cover includes thermal retention and chemical resistant webbing. It has a non-skid flush lid to protect your little swimmer's feet and meets the highest safety standards. It features an easy key-operated open and close. THREE•SIXTY•FIVE™ is the unique combination of a high-performance, year round automatic safety cover and a long-lasting pool coping system.
See Photos
Features & Options
SmartMotion™ Control

Patent pending technology that revolutionizes pool cover use. SmartMotion™ utilizes user diagnostics that prevent cover overrun, system overload—and more!

Stainless Guides

Durable stainless steel guides are two pieces for easy installation.

Lid Triangles

Protects and finishes the open gap between the lid and the lid ends.

Water Resistant Motor

100% submersible 3/4 HP electric motor with Seal Technology™ delivers 1500 lbs. of torque. Quick connects make installation easy. Hydraulic units are also available.

Lid Trays

Optional for under track only. Replaces a standard aluminum lid.

Ladder Hinges

This optional equipment allows for the use of an internal ladder with your automatic pool cover system.